Free Preview: Herbs for the Glandular System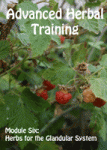 This is the free introduction to Module Six of our Advanced Herbal Training Program, which will cover Herbs for the Glandular System.  In this introduction, we talk about how hormones work and how herbs and supplements can be used to support the glandular system.  We discuss the pituitary and hypothalamus and do three herb profiles on plants that affect these glands—yarrow, chocolate (cacoa) and alfalfa.
The webinar recording will be posted here after the class is complete.
You can register for the rest of the class www.treelite.com or by calling 800-416-2887.
The links to the handouts can be located below under the heading "Attachments."