Herbs for the Structural System (Free Preview)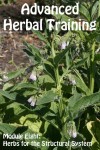 People get injured all the time and modern medicine does wonders with treating trauma. They can set the broken bones, stitch up the lacerations and even do reconstructive surgery.  What they can't do is cause the tissues to actually heal. That's something the body has to do, but it has to have the materials it needs to do it.  That's where natural healing can help. By the appropriate application of herbs and nutrients we can speed the healing process in injuries, while easing pain and preventing or minimizing scarring.

In this free introduction to Module Eight of our Advanced Herbal Training program, Herbs for the Structural System, Steven Horne and Thomas Easley will discuss herbs, nutrients and other natural approaches to speeding the healing of tissues after injuries. There will also be a brief introduction about how emotional trauma can contribute to physical pain and how we can help that process as well.
Right-click here to download handouts (3 slides per page)
Right-click here to download handouts (6 slides per page)
The five sessions of the paid class will be held on the following dates and will cover the information described under each lesson. Go to www.treelite.com to register.
Sept 18: Lesson One—Astringents/Styptics
Tannins
Oak bark
Calendula
Collinsonia (Stone root)
Bayberry Rootbark
Cinquefoil
Crane's Bill (Wild Geranium or Alum root)
Agrimony
Witch Hazel
Oct 16: Lesson #2—Demulcents
Mucilage and Gums
Comfrey
Marshmallow
Slippery Elm
Chickweed
Cattail
Aloe vera
Mullein
Plantain
Oct 30: Lesson #3—Analgesics
Salycilates
Willow
Poplar
Birch
Meadowsweet
Topical Analgesics
Wintergreen
Mint (Menthol)
Camphor
Arnica
Capsicum (Capsaiacin)
Nov 13: Lesson #4—Anti-inflammatories and Misc. Remedies
Inflammation
Boswellia
Devil's claw
Ginger
Turmeric
Yucca
Cat's Claw (una d'gato)
Myrrh
Yarrow
Solomon's Seal
Teasel
Lesson #5: Mineralizing Agents and Drawing Agents/Escharotics
Alfalfa
Horsetail
Oatstraw
Nettle
Poke
Pine Gum
Red clover
Chaparral
Blood root
The paid class is $157 for five sessions for at least 10 hours of quality instruction by two professional herbalists. Get a $30 discount by registering before November 6, which makes the price only $127.  Go to www.treelite.com to register.